Richmond resident Brandon Partin led Kentucky State troopers on a chase after they observed him driving without a motorcycle license late Monday evening.
Troopers activated their emergency lights and siren to conduct a traffic stop on the 23-year-old, but Partin instead failed to stop, turning right onto South Killarney Lane. He then turned left onto Shamrock Lane, left onto South Porter Drive, and then right onto Eastern Bypass, according to his citation.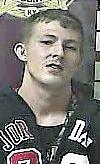 Partin, who lives on Calico Road, continued on Eastern Bypass, running a red light at St. George Street and running another red light at Lancaster Avenue, driving at speeds of 70 mph in a 55 mph zone. Troopers watched Partin as he continued to flee before going into the grass and lying the motorcycle on its side just before the entrance of Baptist Health Hospital, his citation noted.
When troopers made contact with Partin, they learned he wasn't the registered owner of the motorcycle and did not have an operators license, in addition to having a warrant for failure to appear. Partin was in possession of needles, scales and baggies and had slurred speech and pinpoint pupils as he talked with troopers.
At that time, troopers performed a field sobriety check on Partin, who failed as he missed several heel to toe steps and used his arms for balance. Already located at Baptist Health, troopers took Partin in for a blood draw before booking him into the Madison County Detention Center, where he remained Tuesday evening.
He is charged with numerous traffic charges, including failure to comply with helmet law, license to be in possession, operating on a suspended or revoked license, speeding 15 mph over the limit, disregarding stop signs, no motorcycle operator's license, operating a motor vehicle under the influence of alcohol/drugs, first-degree fleeing or evading police (motor vehicle), disregarding traffic signals, failure to signal, failure to produce insurance card, failure to maintain insurance, drug paraphernalia possession, failure to register transfer of a motor vehicle, failure to notify address change, reckless driving and first-degree wanton endangerment.
Others arrested include:
• Michael Lynch, 30, Beattyville, first-degree controlled substance possession (methamphetamine) and drug paraphernalia possession.
• Haley Alcorn, 18, S. Collins Street, Richmond, first-degree robbery.
•Theresa Smallwood, 25, Beattyville, first-degree controlled substance trafficking (methamphetamine).
• Clinton Thomas, 48, E. Main Street, Richmond, no image available, third-degree criminal mischief, second-degree disorderly conduct and first-and second-offense alcohol intoxication in a public place.
The Register collects and publishes police reports as a public service to its readers. The reports often contain allegations against individuals and do not mean the individuals actually committed a crime. All people named in connection with a crime are presumed innocent until proven guilty in a court of law.
Reach Kaitlyn Brooks at 624-6608; follow her on Twitter @kaitlynsbrooks.