Officers with the Richmond Police Department arrested William Martin, 54, Bluegrass Road, Richmond, after a vehicle he was a passenger in was pulled over for a traffic stop on Maywood Circle Saturday night.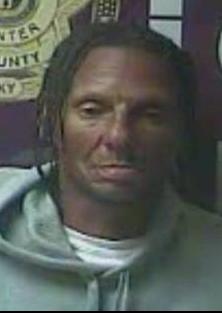 Officers pulled the vehicle over after the driver failed to use his turn signal and discovering the registration had expired in December of 2018, the citation states.
Upon making contact with the four people inside the vehicle, the officer observed something next to the side of the driver's leg which appeared to be a measuring spoon with a filter and residue. The officer had all occupants step out of the vehicle, and Martin gave officers permission to search his person, the citation reads.
In his sweatshirt pocket, the officer located a blue, clear zip pouch with suspected methamphetamine, heroin and marijuana and an unknown blue pill inside, at which point Martin was detained. Martin stated the drugs were for personal use, and that he found the baggie on the side of the road. According to the citation, Martin also had 33 pills identified as Gabapentin and a digital scale inside of a backpack. The blue pill was later identified as as Dicyclomine.
The suspected marijuana weighed approximately 5 grams and was in four separate baggies for individual sale. According to the citation, the suspected methamphetamine weighed 3.2 grams and the heroin weighed around 0.3 grams. Officers also found $190 in his wallet believed to be proceeds of illegal drug sales.
The driver was cited and released and the two other passengers were released. Martin was taken to the Madison County Detention Center ,where he remained Monday afternoon, according to online jail records.
He is charged with drug paraphernalia (buy or possess), first-degree, first-offense trafficking a controlled substance (methamphetamine), first-offense trafficking marijuana (less than 8 ounces), first-degree, first-offense possession of a controlled substance (heroin), illegal possession of a legend drug and first-offense, third-degree trafficking a controlled substance (drug unspecified).
The Register collects and publishes police reports as a public service to its readers. The reports often contain allegations against individuals and do not mean the individuals actually committed a crime. All people named in connection with a crime are presumed innocent until proven guilty in a court of law.