The Richmond City Commissioners took the next step in establishing their identity for Richmond by approving the first reading of an ordinance proposing a Mill District in downtown.
The Mill District stems from the millstone whirlwind originally sparked by resident Speedy Denny with his creation of Millstone Park on East Main Street.
This proposed district is one of several endeavors to enhance the downtown area, which formerly housed two grinding mills, designating the area as a tax incremental financial designation, as well as an entertainment area.
City Manager Rob Minerich spoke highly of the project, saying this was the next step in revitalizing downtown Richmond.
"It designates an area where the mills were located," Minerich said. "We can overlay the H1 district with this district, and I think the potential is unlimited. I think it is going to do a lot for our downtown area … I am really excited about it."
Businesses located within the boundaries of the proposed Mill District will be eligible to receive certain tax or business incentives to help grow and keep businesses in that part of town.
Mayor Robert Blythe spoke saying that not all good ideas just come from the commission, but the citizens in the city or county.
He went on to add that the original proposed outline for the Mill District had grown since the commission's last discussion as many more wanted to be included.
"I understand there may be some other streets that are asking," the mayor said. "It is like little kids, you throw one up in the air, and the other one sees you and says, 'Do me, do me.' I think we are seeing that right now. There are others that want to be included, and that is wonderful."
Later in the meeting, the board of commissioners voted to approve the first reading of an order that establishes a mural placement agreement between the city and the Edwards Family Limited Partnership to help enhance Mill District.
Edwards is the owner of the properties located from 226 to 238 E. Main St., and the agreement allows the city to use the westernmost side of the building for the placement of the mural to draw attention to the park area.
According to Minerich, the mural is still in the design phase.
"Good things to come," the mayor said.
Other business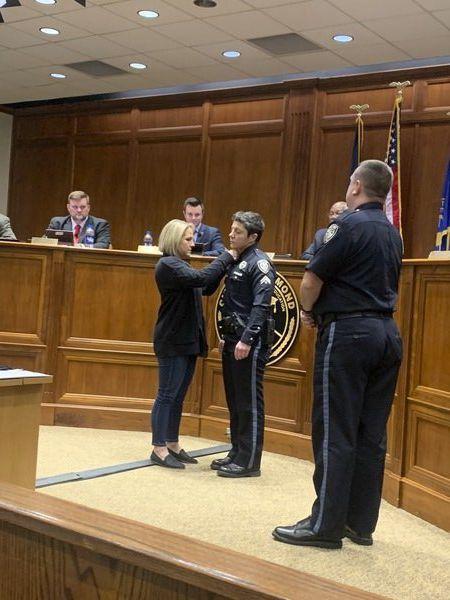 • Richmond police officer Kelli Fraze was promoted to sergeant.
• The Richmond Board of Commissioners voted to approve an order merging the Parks and Grounds Department with the Parks and Recreation Department.
• Wayne Robinson was approved for his appointment to the Board of Adjustments.
• Commissioners approved Ordinance 20-01, which pertains to the purchasing and procurement policies for federal grants.
The next Richmond City Commission meeting will be held Feb. 25, 6 p.m., at Richmond City Hall, 239 W. Main St. in Richmond.
Reach Taylor Six at 624-6623 or follow her on Twitter @TaylorSixRR.