Many, if not most, will settle in Sunday to watch "the Big Game," and perhaps nearly as important as the game is the game-day food.
We have our favorites, as today.com has illustrated. The website says Kentucky's favorite Super Bowl treat is taco salad. Now that surprises me. I've yet to have a friend who wants a salad on Super Bowl Sunday, even if it is a taco salad. Ohio and West Virginia share a favorite snack -- buffalo chicken dip. Now that's more like it!
Here are some ideas for a special Super Bowl.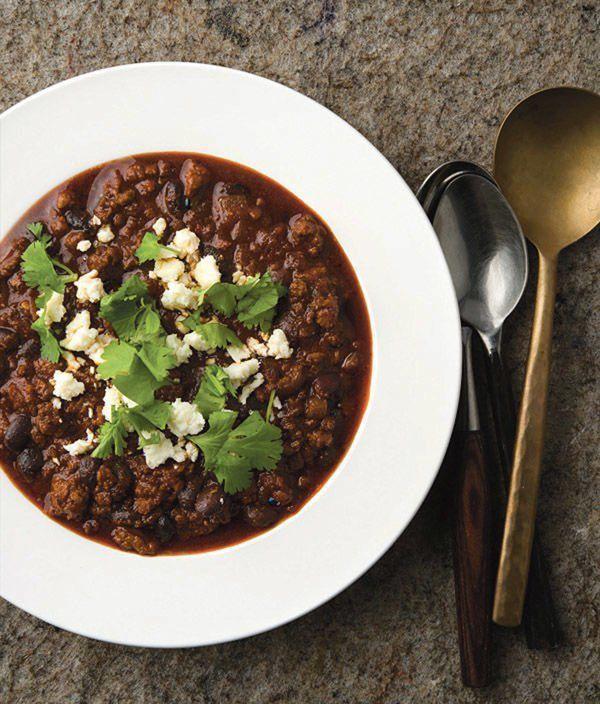 VENISON CHILI
from Hunter Angler Gardener Cook
1 pound pinto or black beans (optional)
12-16 dried ancho, guajillo, pasilla, or mulato chiles (use a mix of varieties)
1⁄2 pound Mexican chorizo or bacon
2-3 pounds venison, ground or diced
1 large onion, diced
6 cloves to 8 garlic, chopped
2 tablespoons sweet or smoked paprika
2 tablespoons cumin
1 tablespoon ground coriander
1 tablespoon chipotle powder (optional)
2-3 tablespoons tomato paste
1 cup of black coffee
3 tablespoons molasses
1 quart Beef or venison broth
Salt to taste
Cilantro and shredded cheese to garnish
Soak beans in water overnight. If you have forgotten this, pour boiling water over them and soak for 4 hours, changing the water after 2 hours.
Break up and seed the chiles and cover with boiling water. Let stand for an hour or so. Grind to a puree with the consistency of gravy, adding about 1 cup of the soaking water and the coffee to do so.
Break up the chorizo or chop bacon and fry over medium heat in a Dutch oven or other large, lidded, oven-proof pot. Once the chorizo has browned or the bacon is crispy, remove it and set aside. Add the venison and brown over high heat. You want the highest heat on your most powerful burner here, because the meat will want to steam and stew and not brown. If you are doing a big pot of chili, brown the meat in batches. Stir occasionally as it browns. Salt it as it cooks.
Once all the meat is ready, add the onion to the pot and cook for 5 minutes, stirring often. If you are using chorizo, return it to the pot; if you are using bacon, leave it out for now. Add the garlic, stir and cook for 1 minute. Add the beans, paprika, cumin, coriander, chipotle powder and salt one at a time, stirring to combine each time.
Add chile puree and tomato paste and stir to combine well. Add the molasses and enough beef broth to cover everything -- you want it to be thin like a soup. I typically need at least a pint of broth, sometimes a quart. Stir to combine all this well, bring to a bare simmer and cook gently for 3 hours or so, stirring occasionally. Put the lid halfway over the pot as it cooks. You want it to eventually cook down and be thick.
Once the beans are tender, you're good to go. If you are using canned beans, now's the time to add them. Return the bacon to the chili if you're using it. Serve the chili with rice or cornbread, and top with cilantro, cheese and maybe some pickled onions.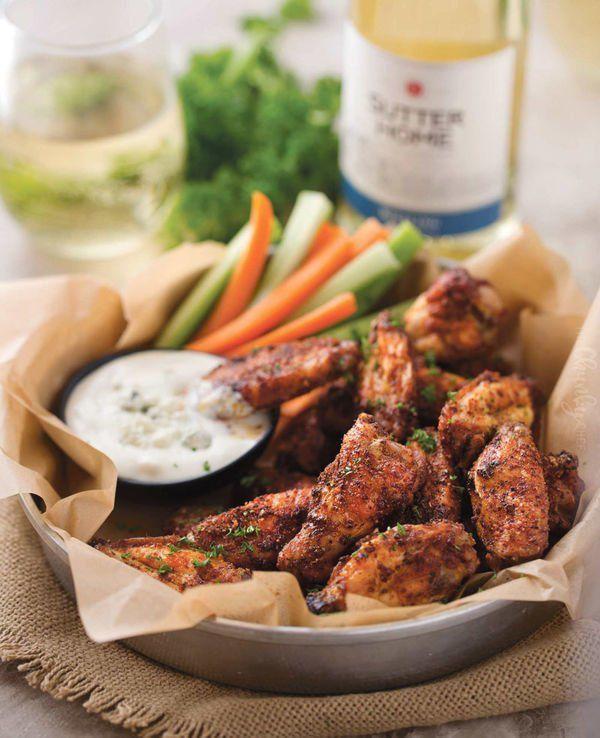 EPIC DRY RUBBED BAKED CHICKEN WINGS
EPIC DRY RUB:
1⁄2 Tbsp ancho chile pepper
1⁄2 Tbsp smoked paprika
1⁄2 Tbsp onion powder
1⁄2 Tbsp kosher salt
3⁄4 Tbsp light brown sugar, packed
3⁄4 tsp chili powder
3⁄4 tsp paprika
3⁄4 tsp cumin
1⁄2 tsp garlic powder
1⁄2 tsp cayenne pepper (less if you're worried about the heat level)
1⁄2 tsp dried mustard powder
1⁄4 tsp black pepper
1⁄4 tsp dried oregano
1⁄4 tsp dried ground thyme
WINGS:
4 lbs chicken wings, thawed completely if using a frozen bag
2 Tbsp vegetable or canola oil
CREAMY GORGONZOLA SAUCE:
1⁄2 cup mayonnaise
3-6 Tbsp buttermilk
1⁄4 cup sour cream
2 -3 oz crumbled gorgonzola cheese
1 clove garlic, grated
1⁄2 Tbsp lemon juice
1⁄4 tsp black pepper
1⁄4 tsp kosher salt
Preheat oven to 400 F degrees. Line a large baking sheet with 2 sheets of aluminum foil (or 1 heavy duty sheet). Top that with an oven safe cooling rack and spray it with non-stick cooking spray and set aside.
Combine all dry rub ingredients in a small mixing bowl, set aside. In a large mixing bowl, add chicken wings and vegetable oil. Use a rubber spatula to toss gently to coat.
Sprinkle in about half to 2⁄3 of the dry rub mixture and use your hands to massage it into all of the chicken wings, coating evenly. Feel free to use all the dry rub, but for a coating like in the photo, 1⁄2-2⁄3 of the mixture does just fine.
Add chicken wings to prepared baking sheet and bake for 45 minutes.
To your food processor or blender, add mayo, buttermilk, sour cream, 1.5 oz of the gorgonzola cheese, garlic, lemon juice, pepper and salt. Process until smooth.
Transfer to serving bowl and stir in remaining gorgonzola cheese. Cover with plastic wrap and refrigerate until ready to use.
WARM AND CHEESY CRACK DIP
from realhousemoms.com
8 ounces cream cheese softened
1 ounce package Ranch dressing mix
3 ounce container prepared bacon bits
2 cups cheddar cheese shredded (plus extra for garnish)
16 ounces sour cream
Thinly sliced green onion for garnish
Preheat oven to 400 degrees.
In mixing bowl, combine all ingredients; mix well.
Transfer to a 2-quart baking dish and cover with aluminum foil.
Bake for 25 to 30 minutes or until hot and bubbly.
Removed from the oven, uncover, and top with more shredded cheddar cheese and green onion for garnish. Serve warm.
THREE-INGREDIENT SAUSAGE PUFFS
from today.com
7 ounces all-butter puff pastry, cut into four 5-inch squares
1 large egg yolk, mixed with 1 tablespoon water
4 fully-cooked packaged sausages, such as Andouille, chicken apple or garlic and cheese (3 ounces each)
Spicy-Sweet Sauce
1⁄4 cup apricot preserves
1 tablespoon chopped sweet pickles
1 tablespoon sambal oelek or other Asian chile sauce (sriracha)
1 teaspoon prepared horseradish, drained
Preheat the oven to 375 degrees and position a rack in the center. Arrange the pastry on a work surface.
Place the sausage on the bottom edges and roll up the pastry, pressing the ends to seal. Freeze the sausages for 15 minutes, until firm.
Cut into ½-inch slices.
Place in the cups of three mini-muffin trays.
Bake until golden and sizzling, about 25 minutes. Turn out onto a paper towel lined wire rack for 1 minute.
Pulse the preserves, pickles, sambal and horseradish in a mini food processor just until chopped. Spoon a dollop of the mixture onto each slice and serve.
FIRECRACKER SHRIMP WITH BLEU CHEESE DRESSING
from foodandwine.com
1⁄3 cup mayonnaise
1⁄3 cup sour cream
3 tablespoons red wine vinegar
1 tablespoon finely chopped dill
1 teaspoon Worcestershire sauce
1⁄4 pound Maytag blue cheese
Salt
Pepper
1 large egg
1⁄4 cup buttermilk
13⁄4 pounds shelled and deveined large shrimp, tails intact
Vegetable oil, for frying
1 cup cornstarch
Salt
1⁄4 cup hot sauce
4 tablespoons unsalted butter, melted
Celery sticks, for serving
In a food processor, combine mayonnaise, sour cream, red wine vinegar, dill, Worcestershire sauce and blue cheese and puree until nearly smooth. Scrape into a medium bowl and season with salt and pepper.
In a large bowl, beat the egg with the buttermilk. Add the shrimp and toss to coat. Cover and refrigerate for 1 hour.
In a large saucepan, heat 11⁄2 inches of vegetable oil to 375 degrees. Line a large baking sheet with paper towels. Spread the cornstarch in a shallow bowl. In three batches, remove the shrimp from the buttermilk mixture, allowing the excess to drip off, and dredge in the cornstarch. Add the shrimp to the hot oil and fry over high heat, turning occasionally, until golden and just cooked through, about 4 minutes. Using a slotted spoon, transfer the shrimp to the baking sheet and season with salt.
In a large bowl, whisk the hot sauce with the melted butter. Add the fried shrimp and toss well. Transfer to a serving platter and serve right away with the blue cheese dressing and celery sticks.