Like many artists, Emily LaDouceur traces her artistic roots back to childhood. Although born outside of Daytona Beach, Fla., when she was 3, her family moved to a small mountain town in western North Carolina -- population less than 2,000 -- where Emily excelled in public school, where standardized tests rated her abilities as "academically gifted."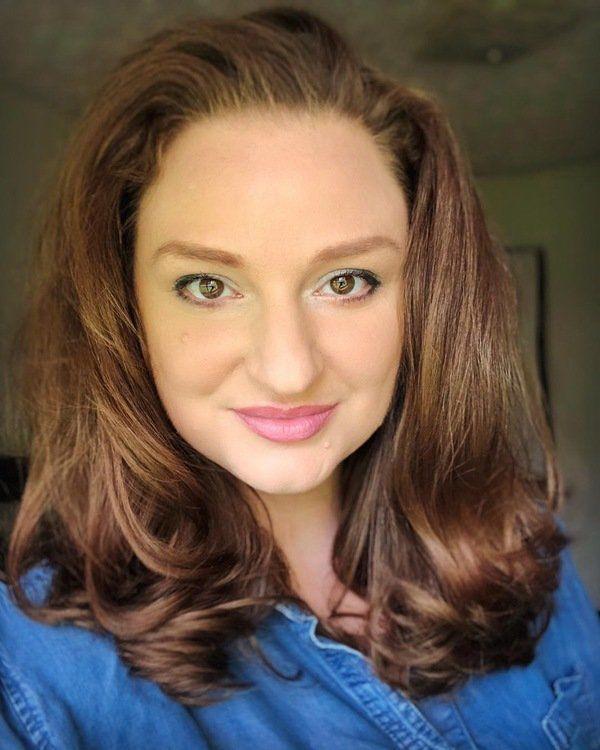 LaDouceur, elected last November to the Berea City Council, is a woman of many interests and skills. Art is but one. A collection of her Feminist Rorschach Series paintings -- each resembling a butterfly -- currently is exhibited in the Clarity show at the Wellward Wellness Center on North Eagle Creek Road in Lexington (across from the public library).
A second show that includes her work opened Tuesday, June 4, at the Gallery on Main in the Community Trust Building, 128 Main St., in Richmond. The gallery is open to the public when the bank is. An artist's reception will be held June 11 from 5:30-7 p.m. and is open to the public.
LaDouceur's artistic talent was innate, at first. She'd copy Walt Disney cartoon characters, "which sounds easy," she said, "but it wasn't. There is so much expression in a face, and that looks simple to draw, but it isn't." Capturing characters through the faces they made allowed her to turn out "exact replicas."
In 11th grade, LaDouceur asked a friend whom she trusted to help her put together a portfolio for the Governor's School. The friend told her that her work "wasn't good enough," an assessment that crushed the young artist.
"Growing up, my dad told me I could do anything I wanted to do if I put my mind to it. He told me I was capable, and I believed him," she said.
That is, until someone assessed her work unacceptable for an honors position. It took years for LaDouceur to accept herself as talented.
While in ninth grade, LaDouceur's school took her and some classmates on a college tour, and they stayed overnight in Berea. When she learned that if she went there, her college education would be free, LaDouceur decided on the spot Berea was where she would go. Although offered partial scholarships for her athletic skills, particularly in volleyball, LaDouceur had her heart so set on Berea that she did not apply to other colleges.
When she began freshman year, she intended to do an independent major to become an athletic trainer, then go on to sports medicine. Plans changed before her sophomore year after studying design with Lisa Kriner -- now Berea's art department chair.
"I ignored what the person said to me about not having art talent," LaDouceur recalled. "After the design class, I knew I was going to do art, and my first idea was art education -- I like kids!"
Yet a college labor position had her teach art to kindergarteners through fifth graders at the Berea Community School.
"It was open space then -- and I had to follow a curriculum and couldn't incorporate other elements, things like music that could have disrupted other classes," she said.
She also discovered she didn't care for the repetitive nature of teaching, so LaDouceur switched her career plans to studio art.
She graduated from Berea College in December 2004, and a month later started earning a master's in human service degree at Eastern Kentucky University. Industrious as ever, LaDouceur took four or five classes each semester and finished the program in less than two years. This degree she funded with student loans, which she's still repaying more than 10 years later.
While in grad school more than full time, she worked full time in an adult day center for mentally and physically disabled adults, then married and moved to New York. Her first job there was overseeing a university residence hall in Stony Brook -- an entry-level, live-in job -- and she calls it "one of the best jobs I've ever had in terms of personal development and learning."
LaDouceur later moved to LaGuardia Community College as its legal coordinator and gave birth to two sons, now 7 and 12, yet art beckoned again. Her last job in the city was in the fashion design industry, working on jewelry and handbag accessories for Jessica Simpson, Vince Camuto, Nicole Miller and the Lucky Brand, among others.
"I oversaw four floors of showrooms a few streets down from the Empire State Building," she said. "I worked with artists, department store merchandizers, choosing what would go into a customer's hands, and that taught me about regional differences in what they selected."
The job demanded too much of her time, she decided.
"The kids weren't seeing enough of me, or enough grass, and a collegium position opened at Berea College, and I got it, overseeing residence halls," LaDouceur said.
Three years later, though, she felt she wasn't having the impact on the world that she wants to have, and she took her first adult vacation in San Juan, Puerto Rico, for respite. When she returned home, she decided to branch out "and do my own hustling, which has included creating art, teaching yoga, preparing meals and being a personal trainer."
LaDouceur worked 15 hours per week at Noodle Nirvana -- "it gave me stability" -- for six months and then began writing and editing the Good Men Project, which is an online magazine for men.
"The magazine gives men the space to have conversations that no one else is having, such as healthy masculinity, sexism, racism, homophobia and what it means to be a good man in the 21st century," she said.
After six months, she was promoted to the executive editorship, then became part of a team that started social interest groups with weekly ConvoCasts -- live podcasts during which listeners call in to participate.
When LaDouceur first considered running for public office, she told her father, who supported her fully, then died a week later. When she campaigned, she reduced her working hours for the Good Men Project. Still there, she works in social media promotion and editing.
Asked for this interview "Who is Emily?", she answered simply: "There are so many facets to who I am and what I care about. Among them are motherhood, an artist, writer and editor, Berea City Council member, a yoga teacher, and an advocate for many economic and social justice issues."
How does she get it all done?
"I try to do three or four art exhibits a year, and in doing that I take care of myself by creating art specifically for each show," she said. "For example, what started as Feminist Rorschachs turned into butterflies that really depict a woman falling in love with herself. I let the paintings go where they want to go."
At the Wellward Wellness Center exhibit, LaDouceur's work is part of the center's holistic healing program; art exhibits there are therapeutic. As painting does for the artist herself, "viewing art becomes part of the process of people getting themselves healthy again."