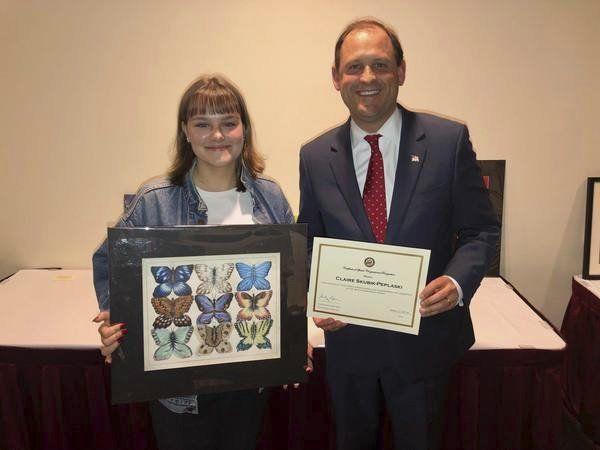 Congressman Andy Barr is inviting all high school artists to participate in Kentucky's Sixth District Congressional Art Competition.
Since 1982, Members of the U.S. House of Representatives have sponsored a nationwide art competition for high school students each spring to encourage young artists. The winning piece from each congressional district is displayed in the United States Capitol building for a year, and the artist receives two airline tickets to Washington, D.C. to attend a reception with winning artists from around the country.
Artwork for this year's competition must be submitted by April 20, 2020. For details on how to enter, please visit https://www.barr.house.gov/services/art-competition or call Congressman Barr's District Office at (859) 219-1366.
Weatherford Award Winners named
The winners of this year's Weatherford Awards for the best books about Appalachia have been announced.
Appalachian Reckoning: A Region Respons to Hillbilly Elegy won the nonfiction award. The book was edited by Anthony Harkins and Meredith McCaroll. Harkins is a professor of history at Western Kentucky University in Bowling Green where he teaches classes on 20th century U.S. history, American popular culture, and American studies as well as a scholar of U.S. popular culture history, according to a news release. McCarroll is director of writing at Bowdoin College in Maine where she teaches writing courses as well as Southern and American literature and film.
The collection includes essays which critique the continued national manipulation of escape stories that are associated with the region, according to a news release.
Any Other Place wby Michael Croley won the fiction award. It is a collection of short stories whose characters live in rural Eastern Kentucky, Ohio and South Korea, according to a news release. Croley teaches creative writing at Denison University and has had stories and essays in VQR, The Paris Review Daily, and more.
Forage by Rose McLarney won the poetry award and deals with the intimate and threatened interconnection of the land and its waters, people and terrain, according to a news release. McLarney is an associate professor of creative writing at Auburn University. She has had poetry collections that have won the National Poetry Series, the Chaffin Award for Achievement in Appalachian Writing and the Fellowship of Southern Writer's New Writing Award for Poetry, among others.
"The Weatherford Awards honor books deemed as best illuminating the challenges, personalities and unique qualities of the Appalachian South. Granted by Berea College and the Appalachian Studies Association for 50 years, the awards commemorate the life and achievements of W.D. Weatherford, Sr., a pioneer and leading figure in Appalachian development, youth work and race relations, and his son, Willis D. Weatherford, Jr., Berea College's sixth President. These winning authors will be recognized at the 2020 Appalachian Studies Conference in Lexington, Kentucky on Friday, March 13," according to a news release.
To place your art and performance news, event or photos in the Arts Notebook, email dott@richmondregister.com. Add "Arts Notebook" to the subject line when submitting.