Josh Bray has filed to run for the office of State Representative of the 71st District which includes Garrard, Rockcastle, and part of Madison Counties.
Bray is the City Administrator of Mount Vernon. In addition to that role, he is a farmer. His run for State Representative was made official this week when he filed his papers in the Kentucky Secretary of State's office. He was joined by his wife, Jana, his son, Trapper, and his daughter, Isla.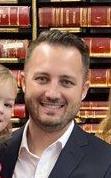 "Serving as City Administrator for Mount Vernon has been honor. I am proud to have worked with local leaders to secure a record amount of funding to improve infrastructure, increase economic development efforts, and improve quality of life for the entire region," Bray said.
"While I love my job, it has become clear to me that the people of Garrard, Rockcastle, and Madison Counties need a strong conservative voice in Frankfort. We need a Representative who will work to get conservative results for our community, our families, and to build a stronger future for our kids," he added.
When filing his papers, Bray, cited his support for defending the Second Amendment, standing up for agriculture, and protecting the unborn.
Bray says he has stayed laser-focused on getting results in his role as a City Administrator and will take that same approach to Frankfort.
"It's been a team effort and I am proud that by working together, we've secured historic funding to make improvements in our community. Focusing on results is what best serves communities. As State Representative, that will be my focus. Conservative results."
Bray is a lifelong resident of Rockcastle County. He is married to Jana Bray, and together they have two children, Trapper (7) and Isla (2).