More than seven dozen students across Madison County are being recognized for the 39th Youth Salute.
The annual awards ceremony was held in early May to recognize the youth across central Kentucky. Nearly 800 high school juniors from the state of Kentucky were recognized, including 89 from Madison County.
A top 'Youth Leader' was named for each high school in attendance, as well as 'Youth Leaders of the Year.' Six all-expense paid trips to the National Leadership Workshop in St. Louis were also announced, along with $90,000 in scholarships and other awards.
Area universities, such as Asbury University, Eastern Kentucky University, Georgetown College and Transylvania University each provided $20,000 in scholarships. Private businesses provided an additional $10,000 in scholarships and other awards.
The top 'Youth Leaders' from Madison County, included Shria Holla from Model Lab, Madison Central High School's Bella Joy Davis and Madison Southern's Lydia Mills.
John Graham from Model Lab was a recipient of a $4,000 scholarship provided by Transylvania University.
Other students included in the Youth Salute are the following:
• Berea Community Schools: Zachary Thomas Brock, Hannah Caudill, Julian Clavere, Madison Cummins, Christian Duff, Sean Fagin, Eleanor Green, Lucas Hannon, Savannah Shayne Lurty, Carlyn McDonald, Noah Prentice, Macey Richardson, Brent Robinson and Tare Thomas Wilson.
• Madison Central: Hanna Allen, Adyson Anderkin, Carson Carlisle, Eli Clapper, Molly Coleman, Trinity Cook, Noel M. Coons, Tyler Davidson, Bella Joy Davis, Isabella Davis, Emily Feger, Cady Gordon, Alexia Johnson, Alec Kelley, Kayla Koerner, Martha Elizabeth Lowe, Victoria Abigail Mayes, Je'Kauri McKeithen, Emily McKinney, Alexis Meade, Logan Metcalfe, Noah Metcalfe, Dawson Miller, Mattie Jo Neeley, Conner O'Shea, Lynsey Patrick, Abigail Perry, Jessirae Prewitt, Emma Rupard, Vito Paul Sabino, Savannah Saylor, Caleb Setser, Amelia Smith, Sarah Soard, Sophia Speller, Taleya Todd, Madison Whittaker and Olivia Woods.
• Madison Southern: Rebecca Bowman, Ashley Briggs, Margaret Brock, Destiny Dooley, Shawn Chadwick Fugate II, Aspen Glover, Hallie Harrison, Heidi Hylton, Brooke Jackson, Anna Julian, Ashtyn King, Maddy McLin, Lydia Mills, Sarah Mitchell, Trent Moberly, Flanary Patterson, Hannah Robinson, Abbey Rodgers, Skylar Sparks, Brooklyn Love Tuggle, Sydney Turner, Sunni Walters and Jonah Wooten.
• Model Lab: Ansuya Aikat, Anna Bledsoe, Emily Bradburn, John Graham, Shria Holla, Ethan Howson, Michael Lecompte, Jacob Osborne, Garth Pais, Ananya Patel, Daniel Rice, Gracie Briann Sisselberger and Kaylynn Tracy.
The Central Kentucky Council on Youth Leadership was formed in 1980 to conduct the "Youth Salute" in nearby counties in cooperation with the National Council on Youth Leadership, a non-profit organization. Students were nominated by teachers, guidance counselors and principals for this year's "Youth Salute".
Scottish Rite Foundation Awards More than $50,000 to Graduate Students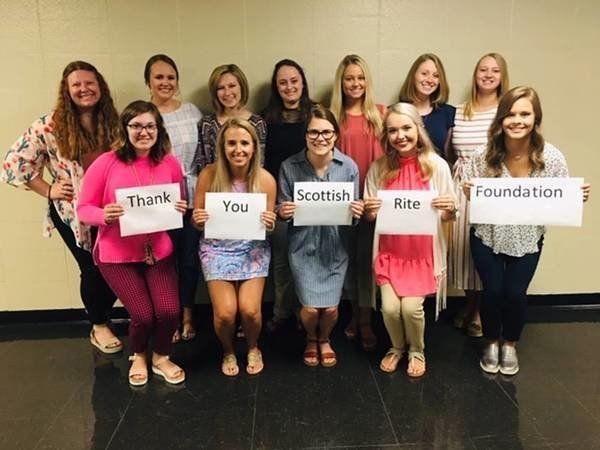 More than $50,000 in scholarships were awarded to graduate students in Eastern Kentucky University's College of Education's Communication Disorders Graduate Program.
For 12 students, the scholarships will serve as financial support those whose career points toward of working with children or adults with speech, language, and swallowing disorders.
"Our faculty is incredibly proud of each of the students who were selected for the Scottish Rite Scholarship. All of the recipients have worked diligently to maintain strong academic records. We are thankful for the Scottish Rite's continued support of our students and graduate program," said Kellie C. Ellis, associate professor, Communication Disorders program coordinator
The 2019 Scottish Rite Scholarship recipients include: Jenna Connely (Harrodsburg), Abby Cravens (Liberty), Kaylee Crawley (Louisville), Logan Ellis (Lancaster), Bethany Hall (Irvine), Jordan Hearne (LaGrange), Rachel Johnson (Georgetown), Madison Kelley (Ashland), Tristan McClean (Monticello), Mariah Rosanbalm (Richmond), Morgan Stephens (Ewing), and Megan Turner (Milton). Each of these first-year graduate students will receive $4,300 in scholarship funding in the 2019-2020 academic year.
The College of Education plans to give their thanks to the Scottish Rite Foundation for their generosity and support of the college's graduate students by honoring the executive council members of the organization sometime this fall.
More than $400,000 has been awarded to graduate students pursuing careers in speech-language pathology at Eastern Kentucky University since 2006.
To place your school news, event or photos in the Education Notebook email kskovran@richmondregister.com. Add "Education Notebook" to the subject line when submitting. Reach Kaitlyn Brooks at 624-6608; follow her on Twitter @kaitlynsbrooks.