The Phi Kappa Phi chapter at Eastern Kentucky University recently received an award for excellence from the national PKP organization.
The EKU chapter, which initiated 55 juniors, seniors and graduate students at a special spring induction ceremony, was given the prestigious Circle of Excellence Platinum Award, which recognizes chapters that "have gone above and beyond to promote academic excellence on their campuses and have engaged the community of scholars," said Phi Kappa Phi Society Executive Director Mary Todd.
The Phi Kappa Phi chapter was the only Kentucky campus to earn platinum honors, the top distinction among platinum, gold and silver and accompanied by a choice of a $300 cash gift or convention registration grant.
The new members of the EKU chapter are among about 30,000 students, faculty, professional staff and alumni to be initiated into Phi Kappa Phi each year, according to a press release.
At the spring ceremony, three EKU faculty members —Martin Brock, Ida Kumoji-Ankrah and Matthew Winslow — were also honored.
Stuart Jones, an EKU senior honors student, was given the Chapter Fellowship Award in the amount of $500. From Oldham County, Kentucky, Jones began his undergraduate years as a music major studying guitar performance under Dennis Davis, the release stated.
Stuart will graduate summa cum laude from EKU with a bachelor's degree in emergency medical care with minors in music and chemistry. He currently works as a paramedic serving both Estill and Oldham counties and will continue his education this fall at the University of Kentucky College of Medicine. He was also admitted to the University of Louisville College of Medicine, according to a release.
Poster/essay winners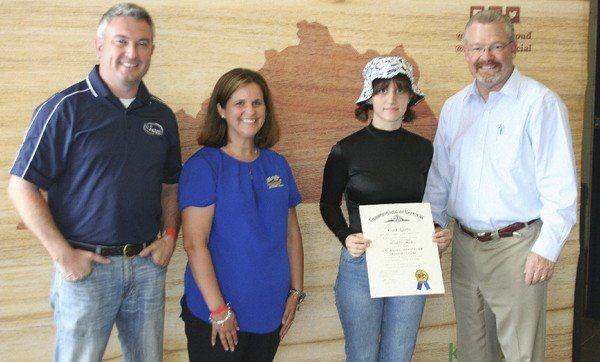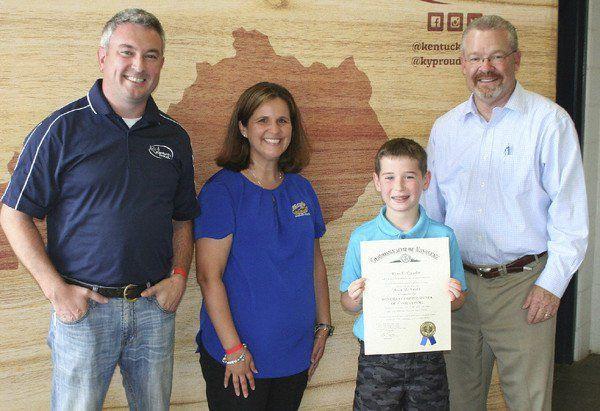 Two Madison County students were recently honored for their posters and essays that express how Kentucky's agriculture community is working to address hunger during the annual poster and essay contest awards ceremony that was held at Whitaker Bank Ballpark.
The two students, Jason McDonald of Waco and Alyssa Daughdrill of Berea, each received a check for $100 from the Kentucky Agriculture and Environment in the Classroom (KyAEC), a meal featuring foods from Kentucky Proud producers and tickets to a Lexington Legends baseball game, according to a press release from the Department of Agriculture.
"I want to congratulate the winners, who depicted in art and writing how our farmers are helping feed the hungry here in Kentucky and around the world," Kentucky Agriculture Commissioner Ryan Quarles said.
CPE report shows degrees, credentials up 11.4% over 5 years
The Council on Postsecondary Education released a new degree and credential production report that shows Kentucky's public and independent colleges and universities awarded a record 72,936 degrees and credentials in the 2017-18 academic year, representing a 4% annual gain and an 11.4% increase over five years.
The report looks at the state of postsecondary education degree and credential production between the years of 2013-14 and 2017-18 academic years.
Underrepresented minority students (URM) saw big gains in closing the achievement gap, increasing 7.2% over one year and 23% over five years. For that period, the greatest undergraduate gains for URM students were in bachelor's degrees at 23.9%, followed by associate degrees at 23.4%. At the graduate level, doctorates grew 42.5%, followed by master's degrees at 22.3%.
"This report is telling me that higher education is doing its job by driving success for all student populations while meeting critical workforce needs that will help power the state's economy," said CPE President Aaron Thompson. "I want to give kudos and thanks to all of our campuses for making such impressive progress, especially with declining state resources at our public institutions and modest to declining enrollment," he added.
STEM (science, technology, engineering and mathematics) saw the largest growth in awards with a one-year increase of 9.2% at the undergraduate level and 55.1% at the graduate level. Over five years, STEM awards grew 45.4% at the undergraduate level, while nearly doubling at the graduate level with an 85.3% increase.
Some of the key takeaways from the report included Kentucky being on track to meet the educational attainment goal of 60% of Kentuckians with college credentials by 2030. Total undergraduate credentials increased 2.8% in 2017-18, surpassing the 1.7% growth needed to achieve the educational attainment goal.
Another is that at the baccalaureate level, education degrees did not grow over the one-year period and experienced the largest five-year decline at 13.2%.
The report is available at http://cpe.ky.gov/data/reports/2019degreesreport.pdf.
Reach Kaitlyn Brooks at 624-6608; follow her on Twitter @kaitlynsbrooks.