Former Waco Elementary social studies teacher Chris Workman has been selected as one of three recipients to receive the prestigious Clements Award.
The award was given to history, social studies and/or civics teachers from around the commonwealth. The other two educators who received the award were Donnie Wilkerson, a fifth-grade teacher at Jamestown Elementary, and Ashley McGaughey, seventh-grade teacher at Spencer County Middle School.
The recipients for the award were chosen based on their commitment to raising student awareness of the importance of public service, their impact on student success, their use of creativity and innovation while teaching and their ability to demonstrate knowledge and enthusiasm for the subject.
"I am humbled and honored to be able to be a small part of Governor Clements' legacy of public service and am so proud to be associated with the Earle C. Clements Innovation in Education Award," Workman said. "I want to recognize and thank my beautiful wife and children and my family, and my Lord and Savior. Without their support and guidance, I would not be where I am today. It's because of their sacrifices that allow me to accomplish all that I do."
Workman, who is now the seventh-grade language arts teacher at Farristown Middle School, quoted a fellow educator, Kentuckian and poet, who once said "I am firm in my belief that a teacher lives on and on through his students. Good teaching is forever, and the teacher is immortal."
"With the words of Jesse Stuart still echoing in the air, I also want to thank all of those special teachers that I had in my life. For all of those men and women who helped to shape me into the individual that I am today, I want to say thank you for all that you did. This award is more of a reflection on them than it is on me," Workman said. "Like ripples on the water, their lessons are rippling through my classes and touching the lives of those students. 'Good teaching is forever, and the teacher is immortal.' Their lessons continue to live on in the lives of my students, as hopefully one day my lessons will ripple into the lives of their students."
Workman continued, stating that this award isn't simply reflection on a single individual, but a reflection on the entire Waco community and the school: the faculty, the staff and most importantly the students.
"It's their passion and excitement that ultimately drives us to be successful as educators. Community involvement is something that is unique at Waco Elementary," he said.
The Earle C. Clements Innovation in Education Awards for Civics and History Teachers honors Clements' lifelong commitment to education and public service.
The award, which was presented this year by the National Archives and the University of Kentucky Libraries Wendell H. Ford Public Policy Research Center, was given to Workman during a special recognition ceremony at the Margaret I. King Library Building at UK.
Governor's School for the Arts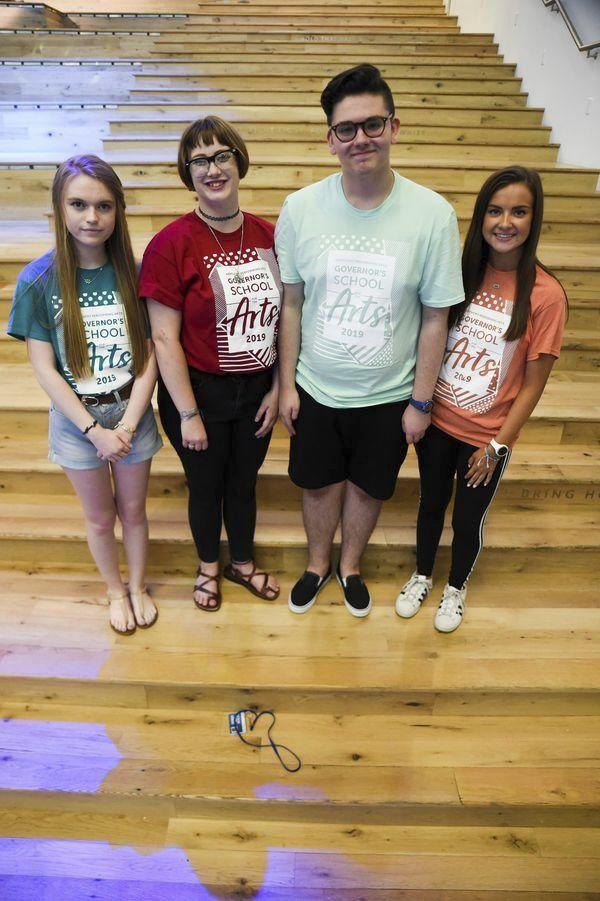 Four of Madison County's brightest recently returned from their three-week stay at the University of Kentucky for The Kentucky Center Governor's School for the Arts.
Emma Rupard, William Black and Charis Ballar, all from Madison Central High School, and Elly Green, from Berea Community High School, were among the 250 students from 53 counties that were immersed in a rigorous schedule of daily seminars, master classes, lectures, hands-on workshops and field trips to regional arts attractions.
Students were able to study in nine disciplines — architecture and design, creative writing, dance, drama, film and photography, instrumental music, musical theatre, visual art and vocal music.
Since 1987, more than 6,100 talented high school sophomores and juniors have attended the GSA summer program. The program culminated on July 7 with an all-day festival that celebrated the achievements of Kentucky's young artists. Additionally, 30 colleges and universities currently offer scholarships to alumni of GSA, including 23 in Kentucky.
Child care grants available for EKU students
Eastern Kentucky University received a grant to their Applied Human Sciences department that will help low-income student parents gain access to affordable child care.
The Child Care Access Means Parents in School (CCAMPIS) grant, which EKU received in late 2018, will fund the Student Child Care Assistance Program (SCCAP). SCCAP represents a partnership between the university and local child care providers.
Eligible students with children can receive a voucher funding quality child care while they attend class. Vouchers can also fund tuition for after-school and summer programs, according to a press release.
"Our students will have the opportunity for their children to attend a high-quality care setting while they're pursuing their degree," explained John Roden, executive director of early childhood programming at the Burrier Child Development Center.
The AHS department will team up with financial aid, admissions, student support services, the Eastern Scholar House and the Center for Student Parents to determine the need and eligibility of applicants.
SCCAP recipients must be Pell-eligible undergraduate students with an annual income at or below the 200% poverty level, though priority will be given to students earning below the 100% poverty level. The amount of funds designated to each recipient will be scaled to their annual income. Roden expects SCCAP to aid at least 35 families attending EKU, the press release stated.
In addition to the SCCAP vouchers, the grant will fund minor renovations to the Burrier Child Development Center and additional programming for infants and toddlers. The center will begin operating two full-day classrooms for 3 to 4 year olds in the fall and add more than $30,000 of facility improvements, including an additional playground for younger children.
SCCAP is currently accepting applications. For more information, contact john.roden@eku.edu.
Reach Kaitlyn Brooks at 624-6608; follow her on Twitter @kaitlynsbrooks.