More than 200 students from Madison County graduated from Eastern Kentucky University during the 112th Spring 2019 Commencement ceremony over Mother's Day weekend.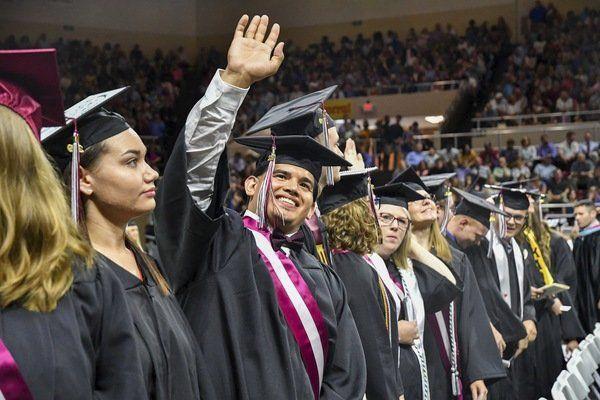 Those students, who graduated from a variety of programs such as nursing, psychology, and social work, earned degrees ranging from associate to doctorate. Friends and family watched as grads received their diplomas and were given warm wishes for their futures. Over the course of Friday and Saturday, EKU recognized 2,971 degree candidates: associate's, 130; bachelor's, 2,143; master's, 642; doctoral, 30; and specialist, 26.
The following students were from Madison County: Lisa Thornsberry, Rebecca McKinney, Toni Tate, Justina Powell, James Conway, Miranda Gay, Donald Brewer, Stacia Cook-McCoy, Kathryn Savage, Beverly Howard, Karen Enlow, Erin Kelley, Michael Sandlin, Jerome DeBord, Carrie Oakley, John Singletary, Joshua Elliott, Whitney Peters, Cornelia Lewis, Christie Moore, Patricia Sallie, Pasang Smith, Casey Jurgensen, Christen Goosey, Gary Sarrett, Sara Daniel, Andrea Holland, Andrea King, Dawn Austin, Kenneth Roberts, Jennifer Ireland, Audrey Worrell, Samantha Sowers, Kayla Floyd, Leah Gaddis, Holly Withrow, Nathaniel Harrison, Dora Gardner, Martha King, Megan McIntyre, John Lovern, Margaret Glenn, Monica Johnson, Danielle Spencer, Ethan Isaacs, Trevor Shuplinkov, Jeffrey Krejsa, Henry Fritz, Ashley DeFisher, Jeffrey Baker, Meagan Medley, Jordan Roberts, Jessica Robinson, Steven Burdine, Sabrina Gutierrez, Christopher Hall, Jennifer Cash, Brent Ramsey, Tessa Stone, Rachel Wehrly, Cody Baker, Rebecca Marcum, Lucas Poynter, Thomas Tolliver, Emma Heid, Steven Kelley, Shawn Lewis, Amber-Elizabeth Abner, Loretta Lewis, Alexandria Rogers, Morgan Frith, Kristen Gibson, Jared Adams, Miranda Markland, Jim Kenney, Tiffany Thomas, Caleb Holbrook, William Tyree, Robert Bouren, Mariah Rosanbalm, Amanda Stratton, Mark Vogt, James Gadd, Reid Buskirk, Patricia Cunningham, Ahmad Al Hamran, Andrew Stephens, Kennedy Parks, Susanna Adams, Jillian Cupp, Hunter Stocker, Shelby Turner, Brianna Roberts, James McClure, Erica Madden, Cheyenne Amon, Sarah Forsythe, Hayley Halstead, Maria Kay, Lindsey Centers, Emily Dean, Kayla Kidd, Angel Shelton, David Benton, Mark Ciocca, Leah Fowler, Haleigh Morris, Amber Sheffer, Austin Templeton, Kate Walters, Bradley Broughton, Michaela Land, Stacie Wallace, Kayla Broadus, Emily Keyser, Mariah Calhoun, Madison Pergrem, Tawney Detweiler, Steven Ramsey, Hayley Hunt, Jena Dooley, Hayden Elliott, Miranda Farthing, Tristan Girod, Larken Jones, Cody Stork, Rachel Bentley, Emily Jones, James Price, Ella Martin, Sabrina Wallace, Emily Osborne, Kelly Wilhite, Cameron Sidor, Kassia Ponikowski, Alex Georgel, Steven Richmond, Austin Warford, Susan Bill, Kayla Hargis, George Sensabaugh, James Hunt, Ian Coe, Chastity Taylor, Gabrielle Thurman, Allen Baker, Saul Wright, Kayla Winkler, Summer Adams, Jaycob Applegate, Rebecca Barger, Tara Bord, Lucas Brewer, Bethany Cruse, Mayce Dennis, Douglas Dessenko, Jacob Frazier, Alesha Alexander, Breanna Grant, Brikena Isufi, Kayleigh McDermott, Alexis Moberly, Olivia Moon, Colton Putnam, Abigail Ray, Love Richburg, Crystal Pettit, Chelsea Sumner, Bradley Villanacci, Marvin Wilson, Emma Williams, Samantha Stacy, Hanna Spencer, Breanna Smith, Sara Castle, Rachel Ramey, Kayla Preston, Kelley Freeman, Xilan Ji, Madison Harned, Tristan Weber, Hailey Brinegar, Dominic Holt, Sarah Reister, Dylan Creech, Michael Skaggs, Ragen Robinson, Melissa Cosby, Christopher Alexander, Reagan Cole, Kaley Outlaw, Emily Ratliff, Brooklyn Long, Katherine Stuart, Lydia Purdy, Keeley Foley, Hunter Jones, MacKenzie Richardson, Clarence Gay, Cassandra Bodenstein, Chelangat Chelule, Jaroline Ridings, Christopher Willoughby, Barbara Thomasson, Jacob Laber, Wynn Jones Mbwambo, Aaron Voynar, Brandon Louthan, Ashley Friend, Kate Bradley, Xenna Alexander, Nicole Grunstad, Audrey Ramsey-Hale, Lazim Islam, Ashley Milligan, Timothy Chase-Wise, AnaMarie Lukaitis and Crystal Blackburn.
FAST graduation at Berea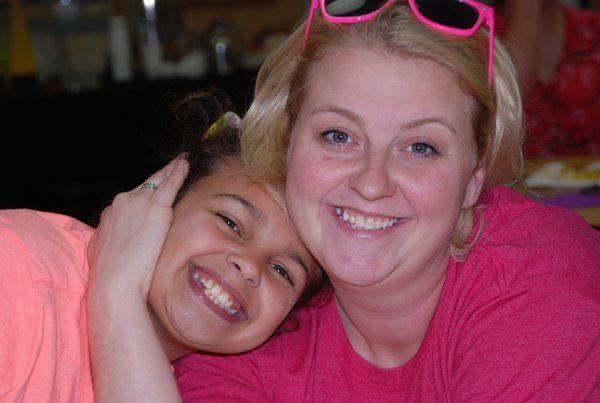 Berea Independent Schools saw a different type of graduation ceremony for families of students in grades K-2 on May 7.
The graduation ceremony was part of their Families and Schools Together (FAST) program, which is a multifamily group program designed to build relationships among parents, children, schools and community.
Once a week for eight weeks, families gathered to share a free, catered meal and participated in a variety of structured social activities, including family projects, games, children's sports and opportunities for parents, school staff and community members to interact. On May 7, the culmination of the eight-week program ended in a celebration honoring each family's accomplishment and dedication to supporting their student's success.
Partners for Education and Berea Community Schools plan to offer an elementary FAST cycle each year. For more information about FAST, contact Jenny Hobson, site coordinator for Full-Service Community Schools, at (859) 302-0468 or hobsonj2@berea.edu.
To place your school news, event or photos in the Education Notebook email education@richmondregister.com. Add "Education Notebook" to the subject line when submitting. Reach Kaitlyn Brooks at 624-6608; follow her on Twitter @kaitlynsbrooks.