Four students from Madison County have been selected to spend time this summer at the Governor's School for the Arts, which will be hosted by the University of Kentucky.
The four students will be joining 252 other students from around the state to take part in the immersive summer art program.
During their three-week stay, student artists from 52 counties will be participating in a rigorous schedule of daily seminars, master classes, lectures, hands-on workshops and field trips to regional arts attractions. Instruction will be offered in nine disciplines: architecture and design, creative writing, dance, drama, film and photography, instrumental music, musical theatre, visual art and vocal music.
Participating from Madison County is Charis Ballard for instrumental music, William Black for musical theater and Emma Rupard for dance, all from Madison Central High School, and Elly Green from Berea Community High School for creative writing.
"We are thrilled to welcome a new class to the GSA family," Nick Covault, director of GSA and an alumnus of the program, said. "Each year, GSA receives a competitive number of applications from talented young artists across the state. We thank all who applied and congratulate the 2019 class -- a promising group of driven and forward-thinking young artists who will spend the summer forging their voice as Kentucky's next generation of creative leaders. As artists, your vision is imperative to society and Kentucky's future. We applaud you, as well as the parents, teachers and advocates who support you in your creative pursuits."
The summer program has seen more than 6,000 talented junior and senior high school artists since 1987. The program will culminate on July 13 with an all-day festival that celebrates the achievements of Kentucky's young artists. Additionally, 30 colleges and universities currently offer scholarships to alumni of GSA, including 21 in Kentucky.
DAR recognizes students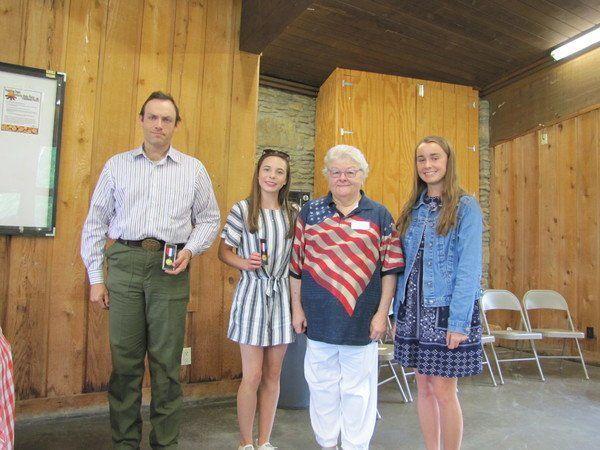 At the Daughters of the American Revolution Boonesborough Chapter annual June picnic, DAR recognized Richmond area students and presented them with DAR awards for outstanding citizenship, service, patriotism, education and leadership in their schools.
Caroline Crump, a student at Madison Central High School, was awarded the prestigious DAR Good Citizen Award. Carrington Coffey, Madison Middle School and Abbey Hensley, Clark Moore Middle School, were each awarded the prestigious Youth Citizenship Award. These students were selected by their schools to receive the awards from Boonesborough Chapter DAR.
Dean's/President's list
School might be out, but some area colleges continue to name students to their Dean's/President's List for their academic successes.
• Campbellsville University: Kayla Dawn Smith and Madison Taylor Day.
• Emory and Henry College: Claire Hogg.
• Transylvania University: Laura Cole, Paige Curtner, Michael Jefferson, TJ Keck, J.D. Lovell, Nathan McIntire and Ruby Smith.
• University of Kentucky: Paul Templeton Adams, Jamie Elizabeth Boggs, Hayden Kurt Bouren, Matthew Spencer Brock, Brooklyn Brookshire, Kyle Brubaker, Anystan Cain, Stuart McLellan Carter, Joseph Anthony Cecil, Rebecca Therese Cervoni, Autumn Renee Clark, Loren Renee Collins, Conner Rachel-Ryan Coyle, Ayla Lynn Deck, Jacob Robert Eads, Keanu Exum, Elizabeth Louise Fort, Ryan Chadwick Gordon, Emily Mark Hahn, Tyler Brent Hall, Alli Hartness, Hannah Brooke Hazelwood, Bailey Hogan, Sahana Holla, Kaitlyn Hornsby, Daniel Patrick Houston, Hannah Marie Jordan, Sara Khandani, Jessica Khoury, Tristan Donnelly Kidd, Sydney Autumn Knight, Trent Turner Lakes, Alexander Kyle Linkenheld, Haley Elizabeth Marks, Teah May, Madeline Meeker, John Zachary Miller, Zachary Daniel Moore, Alexandra Norton, Grace Outlaw, John Taylor Parchment, Samuel Jose Perkins, Kleine Powell, Tresslyn Elise Rice, Jyre Richardson, Trey Allen Sexton, Aidan Grey Shafran, Mihir G Shah, Rachel Morgan Short, Mallory Faun Smith, Taylor Renae Snow, Brooke Stallsmith, Lauren Stapp, Callie Beth Stephens, Isaac Hunter Swafford, Lauren Katherine Thomas, Abigail Grace Vicars, Hannah Grace Houston West, Katherine White, Lauren Elizabeth Williams, Grant L Willoughby and Makenzie Rhea Wright.
To place your school news, event or photos in the Education Notebook email education@richmondregister.com. Add "Education Notebook" to the subject line when submitting. Reach Kaitlyn Brooks at 624-6608; follow her on Twitter @kaitlynsbrooks.