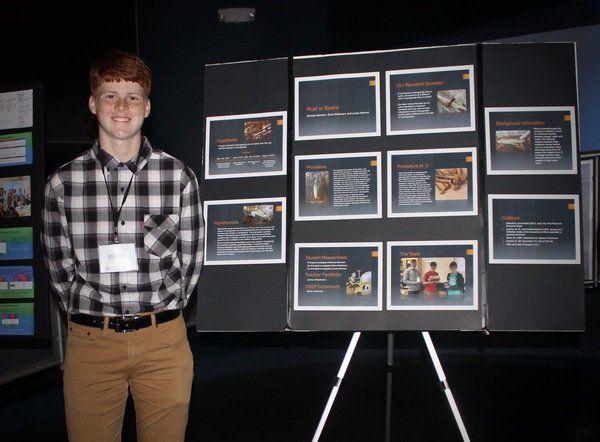 Three Berea Community High School students, along with their teacher, recently went to the Kennedy Space Center to present their research project on rust in space.
Michael Mecham, Brent Robinson and Lucas Hannon, along with teacher Joshua Woodward, worked on the project, which was chosen to fly on SpaceX's CRS 18 resupply mission to the International Space Station. The students and teacher also got VIP treatment at the launch.
Mecham was the principal investigator on the project, with Robinson and Hannon serving as co-principal investigators.
"Michael represented our little community well at the presentation," Jane Mecham, Michael Mecham's mother, said.
Mecham, Robinson, Hannon and Woodward were bused to the launch with other student researchers from all over the country, where they waited in anticipation, but unfortunately, less than 10 minutes before countdown, they rescheduled the launch due to weather.
Recent Cincinnati School for Performing Arts Graduate Receives First Scholarship as Part of New Partnership
Arrington Payne, a recent Cincinnati School for Creative and Performing Arts graduate, is the first recipient of the New Horizon Award to attend Eastern Kentucky University, thanks to a newly established partnership between EKU and the Cincinnati Public School District.
Payne, who can speak nine languages and plays more than a dozen instruments, is planning to major in biomedical engineering and pre-med at Eastern and plans to be a bio-genetic physicist and cardio-thoracic surgeon in hopes that her mother never has to work again.
"The scholarship is a tremendous help to myself and my family," Payne said. "This scholarship was the push I needed to get out of Cincinnati, so I won't have to worry about … getting distracted. This scholarship let me know that even though I'm not the smartest in my class, people saw my efforts, and I was doing something right."
All Cincinnati Public Schools (CPS) students in good academic standing who apply for admission to EKU by Dec. 1 with an unweighted high school GPA of 2.5 on a 4.0 scale are automatically eligible for the lower SMART tuition, a discount of nearly $9,000 off EKU's out-of-state tuition. High academic achieving students may also qualify for additional merit aid. Additionally, CPS students who are SMART eligible and qualify for federal financial assistance are automatically eligible for the Pell Plus program, in which students receive in-state tuition and are automatically offered merit scholarships equal to those offered to Kentucky residents based upon their high school GPA and standardized test scores.
In consultation with EKU admissions, CPS administration will annually nominate two Pell Plus-eligible students to receive the New Horizon Award, which covers tuition, room, board and books after subtracting federal grant aid, federal loans and expected family contributions. Preference is given to CPS students who participate in planned partnership programming. In addition to Pell Plus eligibility, the students must have a composite ACT score of at least 18 (or SAT equivalent).
"The primary goal of the partnership is to assist traditionally underrepresented low-income and/or diverse students in their academic preparation and college selection to simultaneously increase their academic success and degree attainment, as well as diversify and broaden the matriculation of these students into specific academic programs at EKU," said EKU Board of Regents Chair and northern Kentucky attorney Lewis Diaz.
EKU student chosen for Cybersecurity Research
Alex Dixon, a junior computer science major at Eastern Kentucky University, was one of only two students chosen nationally for the summer Cybersecurity Research at Wright State University.
Dixon was able to spend 10 weeks at the Dayton, Ohio, university, researching cybersecurity topics such as malware detection and software vulnerability assessment, among mentors at the top of the field.
In addition to being chosen for the program, a recipient of the EKU Excellence and Gabbard-Hylton scholarships, he is a member of the EKU Honors program and has made the dean's list every semester. He also works as an EKU Guru and is involved in the Machine Learning Deep Learning (MLDL) lab in the computer science department.
Dixon has presented his computer science research at many conferences, such as Posters at the Capitol and the first annual EKU Computing Symposium. He will also present at the 54th annual National Collegiate Honors Conference this November in New Orleans, Louisiana.
"It can definitely be difficult to manage working, studying and extracurriculars," Dixon admitted, "but I try to stay focused on my goals and enjoy it along the way." The source of his drive, he added, is his faith and the support of his family and wife.
Dixon was recommended for the program by Dae Wook Kim, assistant professor in the department of computer science and Dixon's adviser. Once Dixon decided to apply, he had to complete an online application, send in a resume and two letters of recommendation, complete two essay questions and conduct a phone interview, according to a news release.
Reach Kaitlyn Brooks at 624-6608; follow her on Twitter @kaitlynsbrooks.