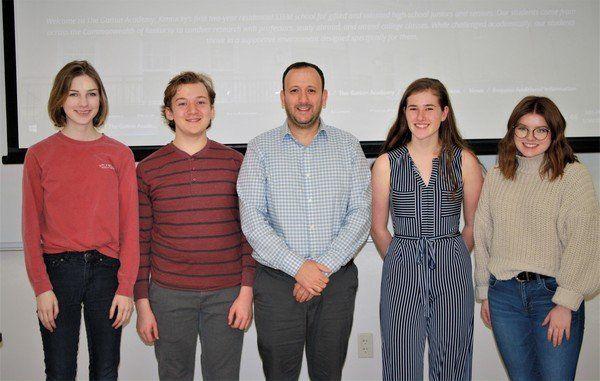 Hazel Traw, from Berea Community High School, is joining three other students from the Gatton Academy of Mathematics and Science in Kentucky to debate teams from around the nation in an Arabic Debate Tournament.
According to a news release, the debate is hosted by QatarDebate, which is an offshoot of Qatar Foundation, and is held for high school teams to compete on assigned topics in the Arabic language. This year, the debate is being held at the University of Utah in Salt Lake City.
The news release said the team members, which includes Traw as well as Ashbey Manning of Boyd County High School, Meghan Pierce of Warren East High School, and Elijah Whittle of Warren East High School, have been studying the Arabic language during the past four semesters at the Gatton Academy.
Each student has attended a four-semester course of Arabic through the Western Kentucky University department of modern languages and has been preparing since the fall semester for the championship under the guidance of Lhousseine Guerwane, an Arabic instructor with the department.
Student aid to help pay for college
The Kentucky Higher Education Assistance Authority (KHEAA) has released a brief summary to describe common federal loan and grant programs.
KHEAA described the Federal Pell Grant as a grant that provides up to $6,195 per year for undergraduates with financial needs. That amount is expected to increase for the 2020-21 school year. The Federal Supplemental Educational Opportunity Grant provides up to $4,000 per year for undergraduate students who have exceptional financial needs.
Direct Loans are available to undergraduate, graduate and professional students. The amount students can borrow depends on their year in school. Federal PLUS Loans are loans that parents of dependent undergraduate students may qualify for depending on their credit ratings. The amount available depends on how much other financial aid the student receives. Graduate and professional students may apply for PLUS Loans if they have exhausted their Direct Loan eligibility.
The news release explained that the Free Application for Federal Student Aid (FAFSA) is used to apply for all of these programs. The PLUS Loan requires a separate application.
Cabinet invites students to participate in poster contest
According to a news release, the Kentucky Personnel Cabinet has started accepting entries for the 2020 Public Service Recognition Poster contest. The annual contest combines visual arts and education by encouraging students across Kentucky to craft pieces of art as they explore the various roles and value of public services.
This year's theme is "Making a Difference" and focuses on the positive impact public service workers have on Kentucky communities. Artwork will be judged in three categories, ages 6-9, 10-13 and 14-18.
First place winners will receive $50, second place will receive $25 and third place will receive $10. Each winner will also receive an invitation to a ceremony at Salato Wildlife Education Center on May 8.
To place your school news, event or photos in the Education Notebook email education@richmondregister.com. Add "Education Notebook" to the subject line when submitting.