Richmond resident Faith Meadows recently attended the Space Academy at the U.S. Space and Rocket Center, where she spent a week learning all about science, technology, engineering and math (STEM).
While there, Meadows experienced hands-on activities and missions, as well as training with her fellow students which were based on teamwork, leadership and problem solving.
The program is specifically designed for those like Meadows who have a passion for space exploration. Meadows spent the week training with a team that flew a simulated space mission to the International Space Station (ISS), the Moon or Mars. The crew participated in experiments and successfully completed an extra-vehicular activity (EVA), or spacewalk. Faith and crew returned to earth in time to graduate with honors.
Space Camp operates year-round in Huntsville, Alabama, and uses astronaut training techniques to engage trainees in real-world applications of STEM subjects. Students sleep in quarters designed to resemble the ISS and train in simulators like those used by NASA.
Madison County Excellence in Teaching Award recipients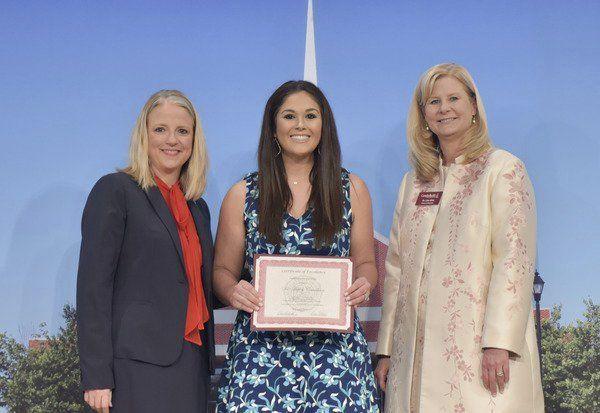 Four of Madison County's best were given the Excellence in Teaching Award from the Campbellsville University's recent Excellence in Teaching Award Ceremony.
Included was the county's very own superintendent, David Gilliam, along with Ashley Cornelison, White Hall Elementary School; Jeff McClain, Madison Middle School; William Dooley, Madison Southern High School.
Cornelison has taught Reading Recovery at White Hall since 2013, in addition to also teaching first-grade from 2011 to 2013.
She received her bachelor of science degree from Eastern Kentucky University in 2011 before she received her doctor of education degree from the University of the Cumberlands in 2018 as well as her master of arts degree in 2013.
McClain has been teaching sixth-through-eighth grade resource math at Madison Middle School since 2015.
He received his master of arts for teachers degree in special education from the Cumberlands as in 2014 as well as his bachelor of arts degree in sociology from Murray State University in 2011.
Dooley has taught 10th through 12th grade English and dual-credit English and communications at Madison Southern High School since 2005. He was also an adjunct instructor at EKU and at Kentucky Community and Technical College System.
He received his master of arts degree from Morehead State University in 2019, as well as another master of arts degree from Morehead State in 2013. He received his master of arts in education degree from EKU in 2008, as well as his bachelor of arts degree in 2005 in addition to his associate in science degree.
A total of 3,946 teachers have been honored since the program began in 1987.
Campbellsville University is a widely-acclaimed Kentucky-based Christian university with more than 12,000 students offering over 100 programs of study including Ph.D., master, baccalaureate, associate, pre-professional and certification programs. The university has Kentucky based off-campus centers in Louisville, Harrodsburg, Somerset, Hodgenville and Liberty with instructional sites in Elizabethtown, Owensboro and Summersville. Out-of-state centers include two in California at Los Angeles and Lathrop, located in the San Francisco Bay Area.
Dean's/President/Graduates list
School might be out, but some area colleges continue to name students to their Dean's/President's List for their academic successes.
• Fort Hays State University: Howie Hu
• Illinois State University: Anna Burke
• Ouachita Baptist University: Savanna Harris
• Rochester Institute of Technology: Reuben VanHoeve
• University of Pikeville: Aaron Slone
While school is out in Madison County, several universities are wrapping up their graduation ceremonies.
The following Madison County residents graduated from Western Governors University: Angela Beall, Heather Clark, Carla Bryant, Michelle Ferguson, Rebecca Finkbine, Roxanne Wooton, Kimberly Butler, John Pinson and Tina Isaacs.
Warrick Moberly graduated from Southeast Missouri State University and Jesse Chang Receives Degree from Washington and Lee University.
To place your school news, event or photos in the Education Notebook email education@richmondregister.com. Add "Education Notebook" to the subject line when submitting.